Baked Red Snapper with spring vegetables in a coco lemongrass sauce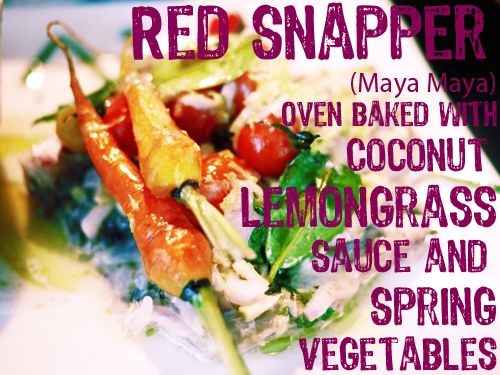 It always surprises me as I step into a restaurant and they seem to have such limited seafood sections; some are limited in the sheer number of dishes they present, others by the variety, and mostly have uninspiring ways of cooking the produce.
It's funny, when I have an eager persistent hankering for seafood I automatically start migrating towards Chinese, Vietnamese or Thai Cuisine (oh! And why aren't there any Malaysian or Indonesian restaurants around the world more! Its great cuisine! I'll save this rant for another post…).
But we have some amazing Filipino recipes for Fish and I want to start sharing more and more the intricacies and delicate characteristics of our local food that is more often than none overshadowed by heavy handed oily dishes, we all love to pig out on, because they emanate a sense of comfort or security but that we shouldn't be basing ourselves on solely.
You don't see American Chefs boisterously up selling their pancakes as their National Star Dish. So why do we do this with Diniguan for example (seriously I LOVE OFFAL and discarded animal parts, but this dish is nothing interesting, why should we be proud of it?).
We have so much more to offer.
Here is a great Oven Baked Maya Maya (Red Snapper) Recipe with some market fresh vegetables and a coconut lemongrass sauce.
Take one red snapper fillet and place  it in parchment paper or aluminium foil wet with olive oil and season with salt and pepper. Add a chopped red onion, 3 minced garlic cloves, 3 tbsp of minced ginger, 2 tbsp of a chopped banana pepper, a dash of fish sauce, a heaped tsp of lemongrass (or 1 lemon grass bark bashed in), 3 spring onions, 6-8 cherry tomatoes, 4-6 baby carrots, 3 torn lime leaves, some coriander and top it all with more olive oil. Close it up and leave some breathing room.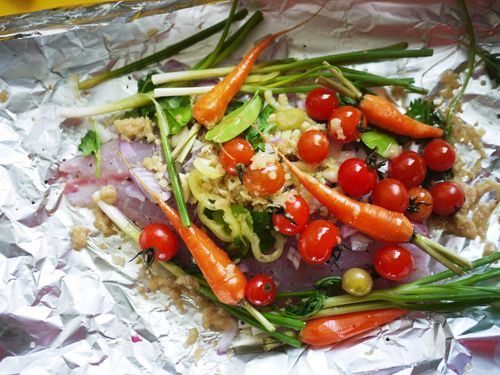 Place in a 200 degree Celsius oven for about 18-24 minutes. Check doneness.
Tip: How do you know fish is done?: Fish should be firm but still moist. ovens, grills, pans and microwaves cook differently. 10 minutes per inch is a good start. How long it should stay in the oven or in a pan, depends on the fish species, temps and if there are any liquids involved. Basically start checking your fish after 6/8minutes per inch. Other ways: when you cut the fish it should be opaque everywhere. if you use a fork it should gently flake apart. Put a thermometer in the flesh and it should come out reading 137 farenheit. insert a knife in then put the knife to your lip, it should be more than warm but not hot.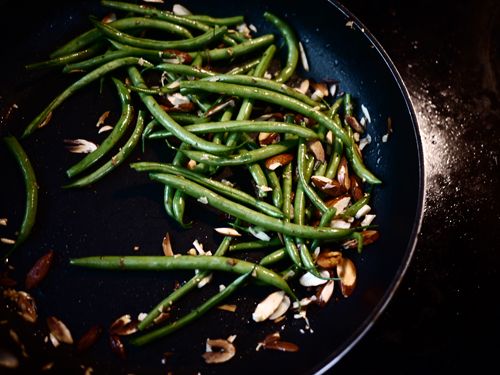 While your fish is in the oven, take some green beans out. Heat a pan and fry off a small handful of almond slivers, add in 2 minced garlic gloves, and your 1 cup of green beans.
Place 4 tbsp of water to help soften them and cover with a lid, until all water is evaporated and the greens are properly cooked (still crunchy), season with salt and pepper.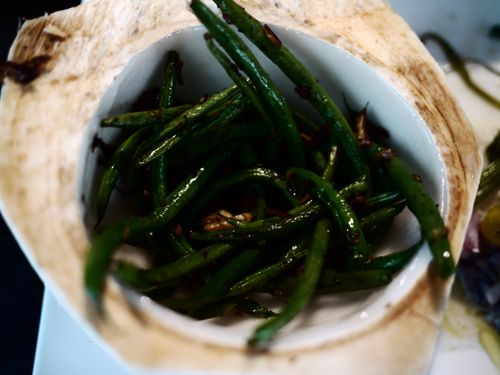 For some added fun, plate your green beans in a young coconut shell that way you can scrape off some meat with your beans and it'll tie in gloriously with the fish.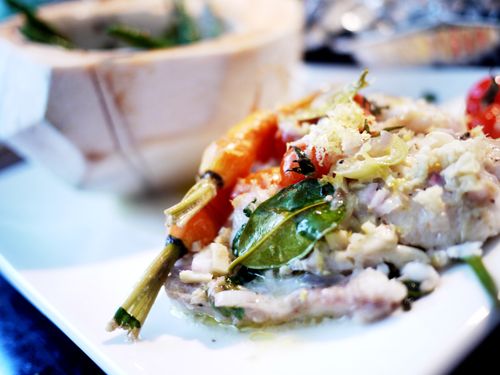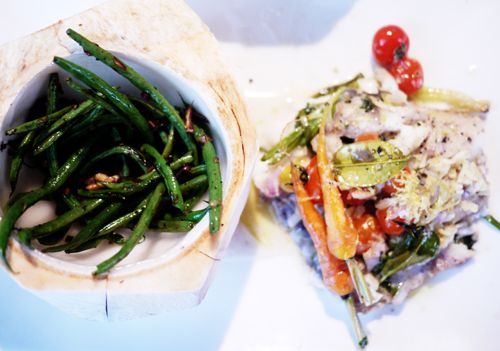 Plate, Zest, Eat and Love. (and sleep after)