One of the most recurring excuses I hear from people who prefer to get their food from fast food restaurants or who eat junk food on a regular basis, is that they have no time to time to buy the food and cook the food. While I do agree that it is slightly more time-consuming to make your own food, I firmly believe that it is more rewarding as well and that the benefits out scale this time constraint issue. Same though applies to working out. Each time I tweet about finishing a sports session, I always, no fail, get replies from people telling me that they wish they had more time to do so as well.
Now, look at yourself in the mirror and ask yourself seriously if you are truly maximising your time efficiency?
I learned young that scheduling is absolutely everything, in fact all parts of my day are carefully inputted in my smart phone so I that way I make sure that I never miss a beat. Look at your day and calculate how many hours are actually efficient (working and commuting). Everything asides from these efficient hours are considered variables. How much time do you spend: eating, watching tv, surfing the net, reading blogs (haha), sleeping, grooming (beautifying), dressing up, zoning out…?
All of these things can be cut and modified. Concentrate on what are the most important aspects of your daily routine and do all your essentials first. Yes, physical activity and preparing your own food should be considered priorities (wake up earlier!)
Let's make this into a contest shall we? Send me your current daily schedule, then modify it in a way where you will be able to incorporate cooking and working out! The most drastic change wins! Put your schedule down in the comments! If you win I'll have a gift basket ready for you.
Here is mine:
6.00 Wake up
6.45 Workout 1
8.00 Commute
9.00 Work
12.30 Lunch
19.00 Done with Work
19.30 or 20 Workout 2 or Shop for ingredients (every other day alternating)
21.00 Cook + Eat (sometimes shoot for blog)
22.00 Write + Blog
23.00 Sleep
See isn't that easy? Well here is an even easier 15 minute meal!
Stuffed Garlic and Basil Shrimp with a quick Bean and Asparagus Curry
Good for 2
For the Curry: Fry off 3 garlic cloves chopped, 1 whole white onion sliced, a thumb sized piece of ginger grated, until a little brown. Add in 2/3 cup of drained and rinsed mixed beans until hot. Add in a handful of asparagus tips (about 13 tips + a little stalk), cook for about 5mins. Add in ½ cup or more (if you like it saucy) of coconut milk, keep on low fire, with 2 tsp of fish sauce, some pepper, 1 tsp of chilli flakes, 1 tsp of lemongrass paste (or freshly ground lemongrass) and some salt. Cook for an additional 2 mins or until the asparagus have become bright green. Take off the fire, taste and adjust fish sauce or pepper seasoning to your liking.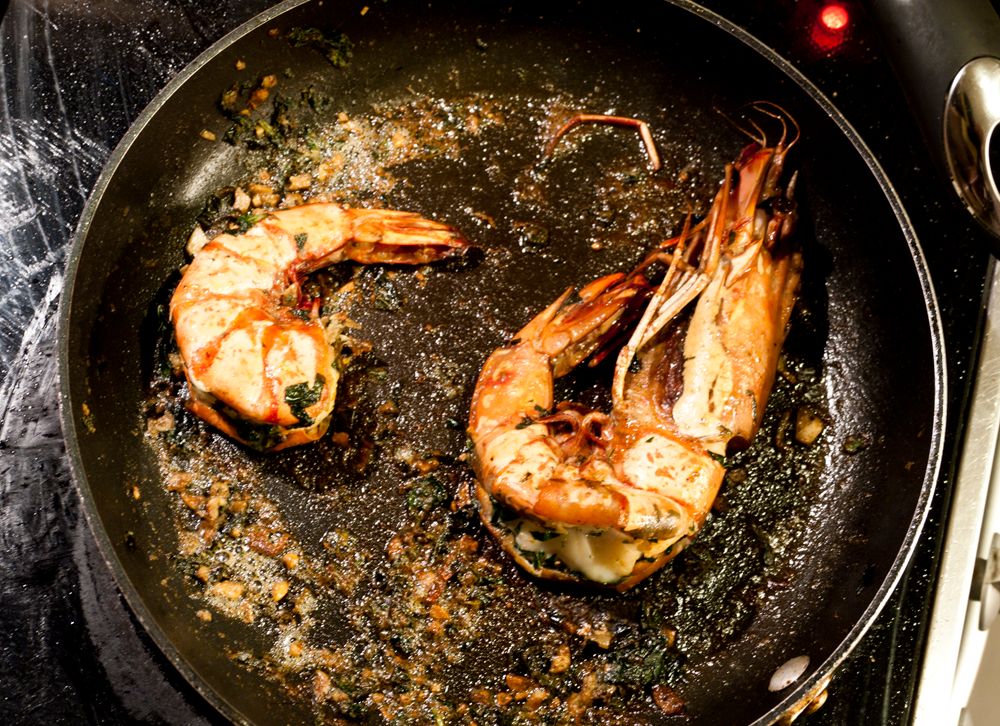 For the Shrimp: Take 4 large shrimp, cut out the dorsal vein and pierce the flesh (while cutting) with scissors (almost a butterfly). Per shrimp rub in a tsp of sea salt, pepper and stuff the top and sides with 2 tbsp of chopped basil and 1 garlic clove finely chopped. Sautee with olive oil until coloured on both sides (about 4mins on each side usually) or until they are firm and opaque on the inside.