The other i received amazing produce from thefarm.ph . After staring at it and twitching with ideas for a whole 22 minutes (to be exact), i didn't quite know where to start or fit the selection into my diet for that particular week. In front of me i had some Rib Eyes, some Bone Marrow, a New York Steak, some Short Ribs, in short (haha – not) a high protein diet heaven. However i knew that i needed to put up a health post this week, since after all your (and mine) long weekend bingeing, i thought would come in handy; and i had also promised to post a BEEF Pig Out recipe. After staring at the meat for another 10 minutes, i decided, since it was just Halloween, why not do a really cheesy Angels vs Demons theme? (I give myself an A+ for random thought associations).
Wait, i'm not done surprising you.
The Demon: Yes, yes, yes you probably thought that i would choose the Rib Eye, notoriously known to carry more than 20g of fat per serving, however the Short Ribs where fattier looking, so i decided to go with them. Moreover, what i like about the Short Ribs (compared to the Rib Eye), they can actually be made leaner by trimming off the fat, at which point they become very rich in protein and moderate in fat levels.
The Angel: Shock. Gasp. Boom, Boom, Pow. 'Gotta get' that bone marrow. I always see people instagram and tweet pictures of Bone Marrow with captions like 'pure indulgence' , 'eff you body' or 'i need to run this off tomorrow'. But, but, but!! Bone Marrow actually isn't terrible for you! Reasons:
– Bone Marrow is cheap.
– Animals automatically go for bone marrow when they eat, there must be some good here.
– Bone marrow is dense in fat (the good kind), proteins (the best kinds) and lots of vitamins (such as calcium).
– It taste like creamy butter. Shiver.
Onwards to the recipe!
For the Short Ribs: Take about 700 grams of short ribs slightly leaned out, season with lots of salt and pepper, fry off in some very hot olive oil until brown on all sides, in an oven proof pot. Remove from pot. In the same pot fry off 4 cloves of garlic, 2 chopped plump tomatoes, 2 chopped leeks, 1 chopped red onion, 2 sliced carrots and let cook until slightly soft. Re-add the short ribs and fill with enough wine to just cover the whole mix. Place the lid on and braise at 350 farenheit for at least 2hr45 or until the meat falls off the bone. Serve with some freshly chopped parsley and your favourite side dishes (potatoes, risotto, in a sandwich, your call!)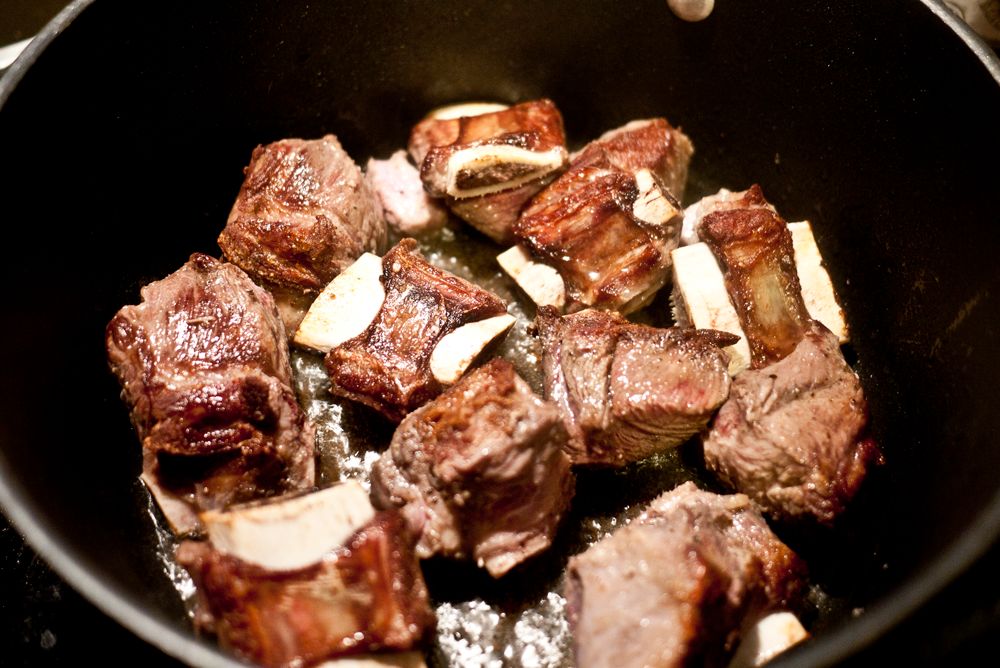 To cook the Bone Marrow: Very simple either roast it on its own at 350 for 15 mins then sprinkle with rock salt. or place in the same pot 15 mins before taking it out and let it roast there. You can either scrape the marrow and eat it like a real fat kid with the short ribs. Or serve it on the side with some nice crusty bread and a sweet salsa to cut through the richness of the marrow (mango, raspberry with some red onions, lemon juice and herbs? get creative!!)
Done!