I have a serious obsession with food i can eat with my hands, partly because of my Filipino genes, but mostly because I'm in love with the convenience of it. I get a little frustrated that we do not have the grab and go, pick up food culture in the Philippines. It's shocking really, since we are king sized fans of multitasking: tweeting while walking, tweeting while driving (bad idea), tweeting while peeing (I've seen it done, it's a skill ), the advent of the multislasher personality – e.g: painter/singer/business woman/fire juggler, in short, we like to do things, whilst doing other things (why didn't he just say that from the beginning?). So imagine my disappointment when i have a hankering to eat something convenient, while i go through my reports for the day and talking to the phone, something that obviously happens everyday, my only option here is greasy pizza or a sandwich with ridiculously sweet mayonnaise as the main ingredient (why o why). I could go on and on, and i will. I think some of my food posts this year will focus on convenient and to-go recipes and to start it all of i will give you a recipe for the sandwich of reference to crawl to, when one has a whopping insatiable craving, the burger (like my play on words there?).
Burgers have been somewhat of a trend lately, a number of restaurants have cornered the gourmet burger market and are still going strong. If we were to look at the history of this sandwich, we would start with its etymology, hamburger, obviously derives from the town of Hamburg in Germany; we all know Germans love their minced meat and that the steak tartare was already i known delicacy, so when European sailors would arrive at the port of New York (18th century), these nifty american food hawkers would sell them some "Hamburg Steak" to pacify their home-sickness. Like many things though, in no way does its original recipe look like what we eat today, the Americans tinkered with it and it evolved into popular fare all throughout the USA. It started making its rounds in country fairs first, then to little cafes, diners and finally was taken over by White Castle (in the 20's) – (Yes, this is the same White Castle from Harold and Kumar ). In the 1940's two brothers, Dic and Mac, thought the idea had more potential and started selling it in their little restaurant called McDonalds, and from there, the world ended….
Once the fast food giants took hold of it, smaller and more specific fast food chains started to specialise in the art of burger making (In-N-Out, TGIF…). After a few a years, restaurateurs, with the rising trend of making simple food amazing, started elevating the burgers  with different recipes and by adding ingredients which were never before seen between two buns. This brings us to today, the burger has gone through so many stages, but how many people actually do it right? Well, i have no idea, i just know that a good burger has to be made only with the best of ingredients: bread that is soft but has a strong texture to hold the sandwich together and not have it drip everywhere, meat that is juicy and stays consistent throughout the cooking process, sauces that complement the overall flavour profile, vegetables that bring added texture and cut the fat from the meat and cheese that doesn't over power the sandwich.
100% Grass Fed Beef Burger on Whole Wheat Ciabatta with Garlic Aioli and Quick Tomato relish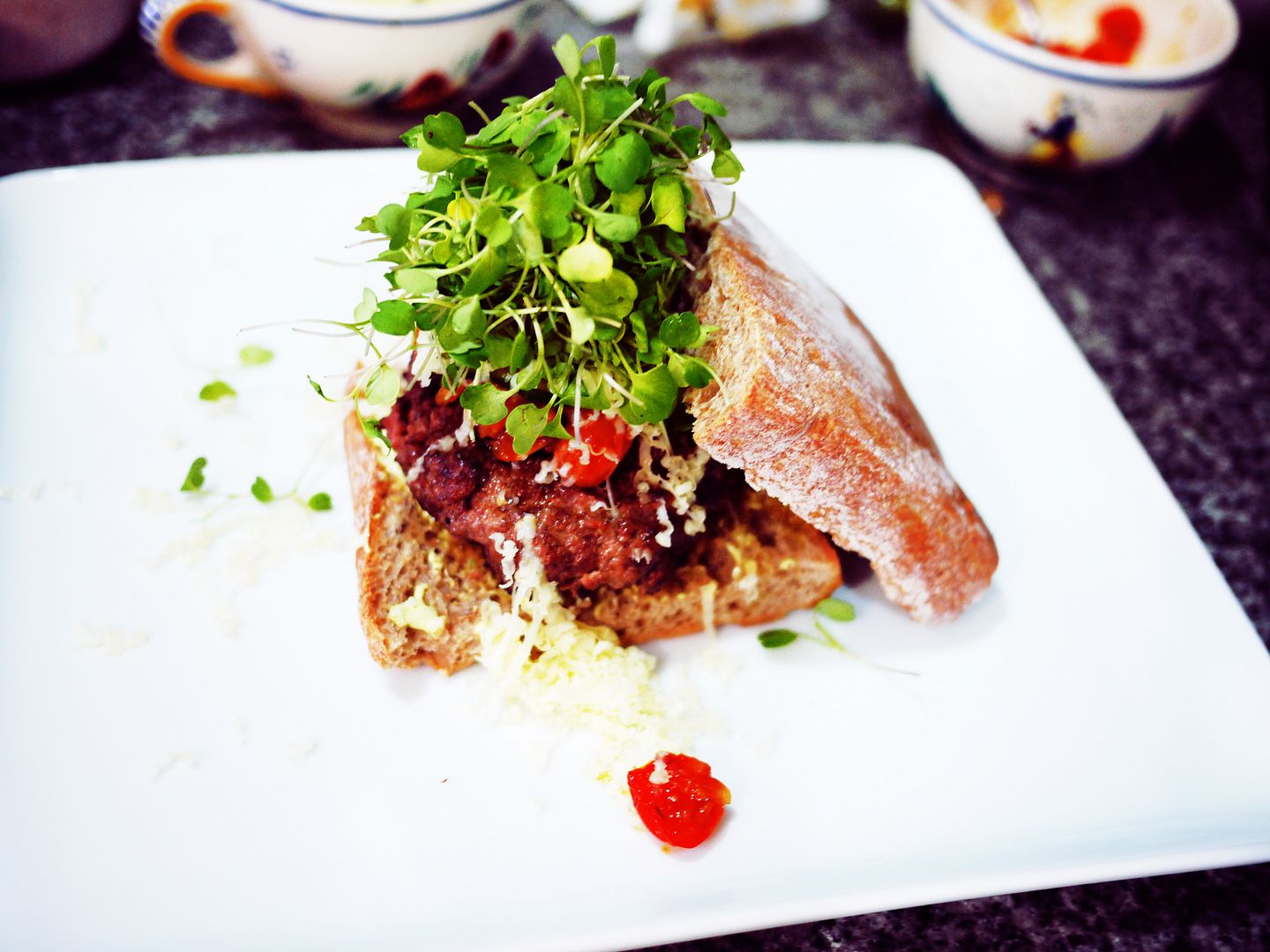 Serves 3
 For the Garlic Mayonnaise:
Ingredients
– 2 large egg yolks
– 300 ml light olive oil
– 1 tsp lemon juice
– 1 tsp white vinegar
– 1 tsp of Dijon mustard
– 1 or 2 crushed and chopped garlic clove.
Instructions
1. Separate your egg yolks from the whites and mix them with everything but the olive oil. Put everything in a processor at low speed and slowly let the olive oil literally drip into the mixture as it slowly becomes more solid. Once the desired mayonnaise consistency is achieved stop the blending and add salt and pepper to taste.
 Tomato onion relish
Ingredients
– 15 cherry tomatoes
–  1-2 big red onion
– Olive oil
– 1 tablespoon of sugar
– 2 table spoons of tomato sauce
Instructions
1. Fry the onions and tomatoes together at medium heat, add sugar and tomato sauce until the whole mixture slowly caramelizes and resembles a sauce, mash it up a little.
 Quick Pickles
Ingredients
– 15 thinly sliced cucumbers
– 1 + 1/2 tablespoon of muscuvado sugar
– 1 teaspoon of salt
– 1 teaspoon of tarragon vinegar (or vinegar and some tarragon sprigs)
Instructions
1. Mix everything together and let sit 10 minutes. Once macerated was the cucumbers in very cold water quickly and then pat dry on a paper towel. Once dry add in remaining ½ tablespoon of sugar, mix until coated and let sit in the fridge.
For the Burger
Ingredients
– 100% Grass Feb Beef (150-200 grams per person)
– Whole Wheat Ciabatta Bread
– Micro Arugula to top (3 large pinches)
– Single Aged Gouda (3 slices – or grated)
Instructions
1. Cut the bread in the same size of your patties, lightly brush with butter and toast until warm and not until crunchy.
2. Work the meat a little and form the parties, you want to make sure that they look consistent and not frail. Smoke the burgers on a grill away from the fire until the colour changes to brown all over, increase your flame and chargrill on each side. Make sure ton only flip the burger once.  Once the colour is a nice dark brown caramel transfer to a 350 deg. Oven until the internal temp of your meat is about 140deg.  In the oven you can add the cheese on top if you want.
3. Assemble the whole thing in the order you want. Just remember to put 2 tablespoons of each sauce per burger.
Enjoy and let me know what you think! Post some pictures if you've made the burger!