Throwing a party needs to be approached like a job. Too many times i have a gone to parties where you are greeted by a table with an ice puddle forming beneath a couple of bottles of commercial Soda, a mix of high end and low end alcohols that can't be mixed together, a spread of food that will never go beyond adobo chicken and  Italian spaghetti (not that I have anything against that, but please, have a concept), music on repeat and a floor space and seating arrangement that makes absolutely no sense whatsoever. Each time someone asks me, how do you make a party special? I always answer: Vision.
Vision is the founding block of any successful endeavour, or event in this case. Your concept needs to be fluent, coherent and fun. Look at your guest as if they were customers; in school we were taught Sensorial Marketing, especially important in the luxury industry and one of my favourite classes, because it made us understand the importance of certain services/aspects/details that make people fall in love with your brand and have them feel part of something bigger than they are. Ok, I'm not saying everyone needs to fall in love with you (well that would nice too), all I'm trying to convey is that people should feel that they are not only attending the event, but they are also a part of it. You need to strive to awaken all their sense: touch, sights, sounds, taste and smell. Your guests are the only thing you can't control, so here are some tips to try and control everything else.
I'm going to show you what I did for my barbecue party, just use this as a guide and you can apply it to any type of event, just by making sure you attack it with the same detail.
This is what i mean by detail: this was my prep list for the food and drinks:
The Place:
The garden at my parents' house Is quite long and narrow, so the trap here would be to put too many tables with too much space in between, making it seem like there is no one in your party. So as much as possible I always try to fit people in as snuggly as possible. It makes it look like there are a lot more people and different groups get less awkward with interacting with each other. I wanted a very chill, organic feel and that was my Vision for the whole party. So I had couple, 4 seaters, some 8 seaters, some 2 seaters and then 2 small tents (in case it rained –thank god it didn't) with lots of pillows and sarongs, pool/bbq parties last longer than night parties because people get comfortable and just want to stay, so beds and pillows are an amazing option. Im not big on decoration so everything was mismatched, and if like me decorating is the last thing on your mind, play with some lighting options, it makes a huge difference.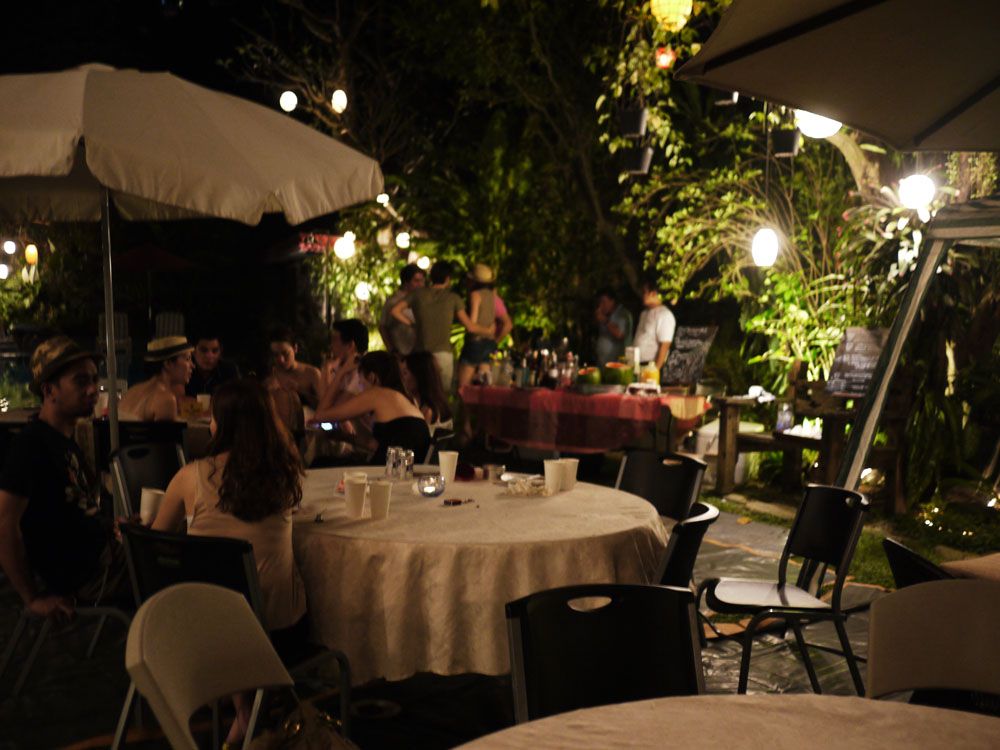 The Bar:
The Bar is the first centre point, because if you are doing it properly, you will only start reheating and spot cooking when 1/3 of your party has arrived, so you need to treat the early birds with something special. I made a simple blackboard menu with indications to what was on the bar. My essentials: prepare 2 pre-made punch bowl cocktails, 1 interactive cocktail people can make themselves, a bunch of fresh herbs (basil, lemon balm, mint, spearmint), fresh coconut water, simple syrup (boiled water and sugar), modified simple syrup (ginger, galangal, lemongrass) fresh fruit juices (watermelon in this case) and the staples (whisky, cognac, bitters, vodka, rum, juice, sodas, club soda, tonic water, gin, lemons, oranges, red and white wine). Of course, ICE (most important, often overlooked, we bought 25 packs for this party).
The two punches were a Tropical White Sangria and a Strawberry Mojito, the interactive cocktail was a Watermelon cooler to which I added lemongrass ginger simple syrup some fresh herbs, lemon juice and vodka. I cut out the meat of two big watermelons, so that I could have two cool containers to mix in. For the rest, a bar really decorates itself with all the bottles, but if you want to add some finishing (yet useful pieces), I use buckets (some galvanized, some black) to fill with ice and rest the wine, and wood containers for the herbs and fruits, instead of glasses I used large round plastic tupperwares (fills up more).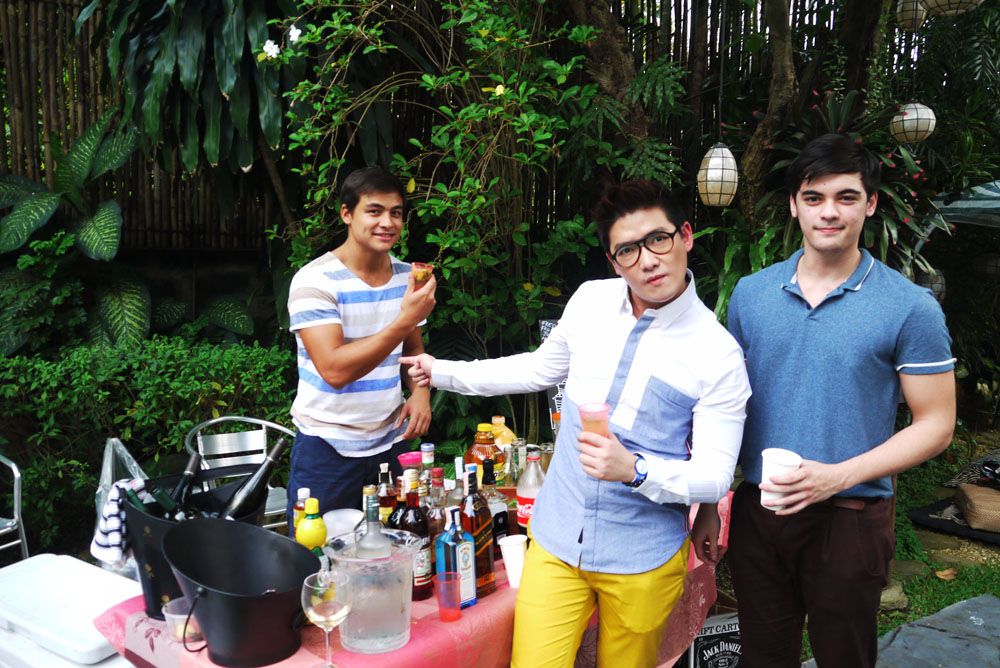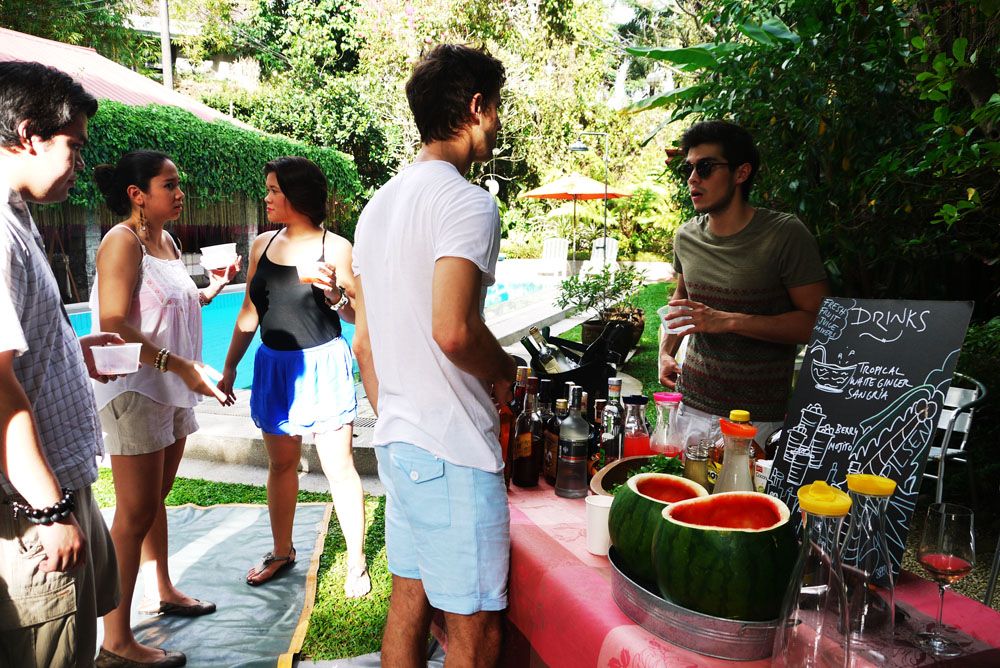 RECIPE: Strawberry Mojito:
Take a medium round Tupperware (for 1), add in some mint and basil and crush together (10 leaves), add a shot or two of rum, 4 large frozen strawberries (these will be your ice cubes) and bash it all together until it gets thick and gooey, add a shot of simple syrup and  finish by adding a shot of lime/lemon juice and some club soda to fill up. Taste the drink, if it's not there yet, just add more rum, lemon, sugar or club soda, and figure it out!
The Food:
The most important part! Come up with a concept first, mine was Barbecue Sandwiches and I wanted people to get interactive with it.
Instead of using boring plates, use some cool take away containers you usually see food carts, food trucks or picnic use, its different and you can fit lots of different stuff on them.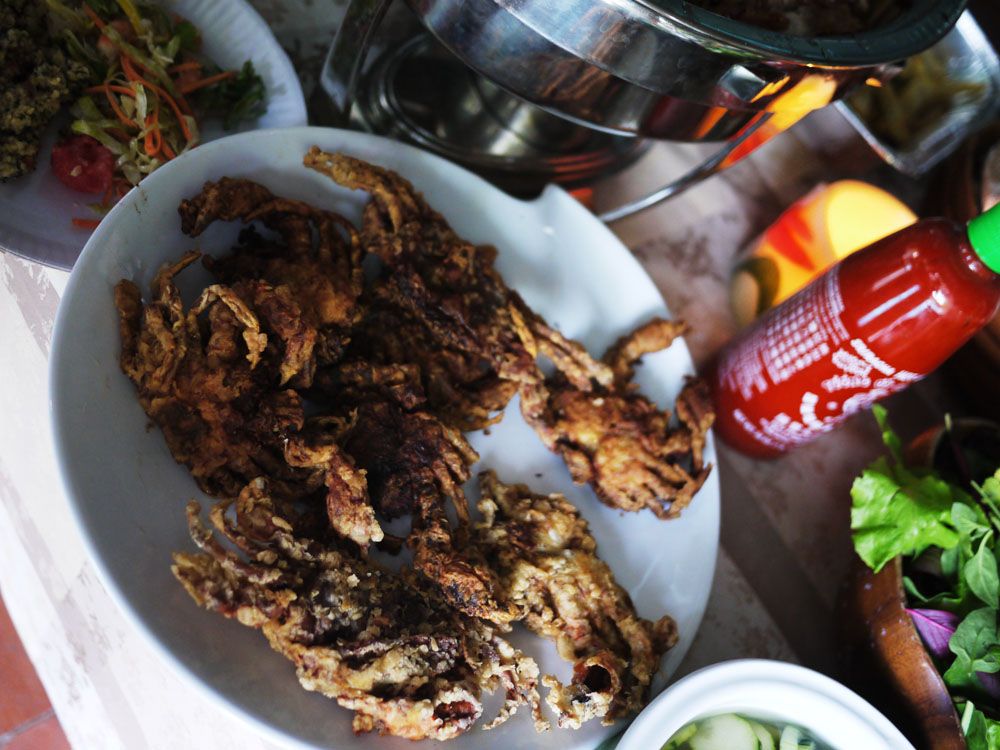 RECIPE: Salads:
–          Tabouleh with Sticky Dates: Cook some couscous according to the pack, add some flat leaf parsley, some mint, lemon juice, olive oil, tomatoes, shallots, salt, pepper, sticky dates. Mix to taste.
–          Shredded Cabbage: Shred some cabbage with some figs, carrots, sesame dressing, olive oil, lemon juice and watermelon cubes.
–          Pomelo Salad: Classic Thai style, check for recipes online.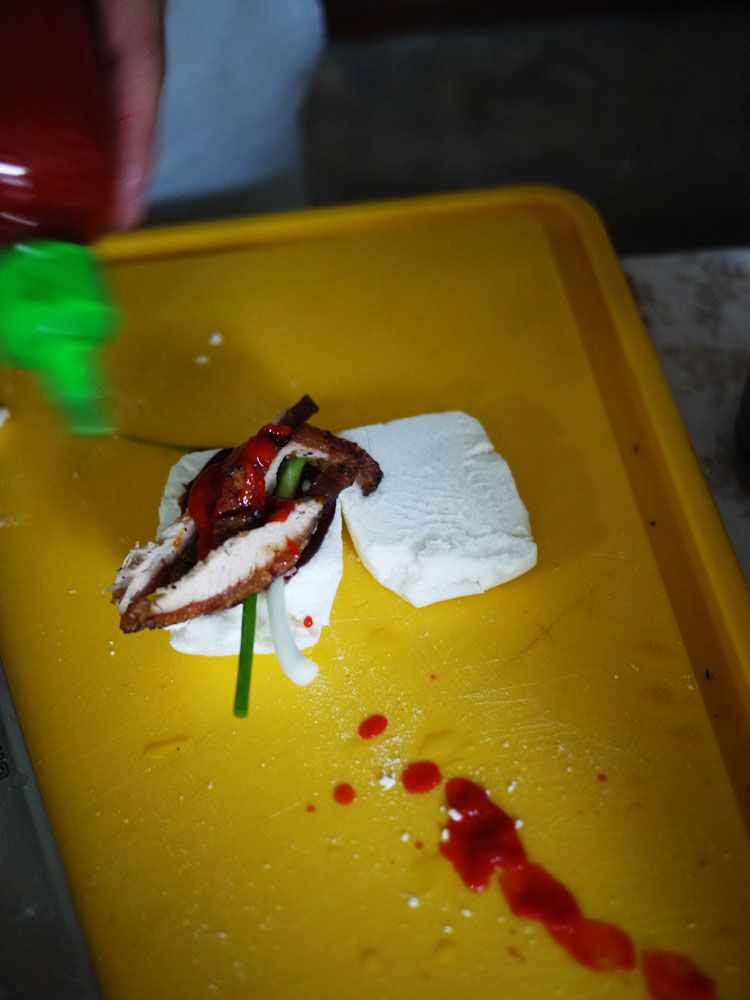 Sandwiches:
Grab your bread, your meat, your sauce and your fillings and pack it up!
Breads: ciabatta, baguette, rolls, muffins and pao bread.
Meats: Slow cooked pulled pork shoulder, slow cooked pork belly, grilled chicken lemongrass thighs, fried soft shell crab and 88% lean beef burgers.
Sides: Rosemary lemon salt French fries, pickled carrots, pickled daikon, pickled cucumbers, fresh cucumbers, arugula, lots of herbs, spring onions.
Sauces: Homemade ketchup, garlic aioli, hoisin sauce, Vietnamese dipping sauce, onion jam.
Desserts: I just made bucket loads of ice cream! I had like 7 different flavours and individual ice cream cakes.
RECIPE: Lemon Grass Chicken Thigh: Buy some boneless chicken thighs, they only have a little more fat then the breast but are so much tastier, marinate them with some fish sauce, onions, garlic, chilli pepper, lemon grass stalks, galangal and soy sauce, and just forget about them in the fridge until the next day. Then grill them on a screaming grill until cooked through.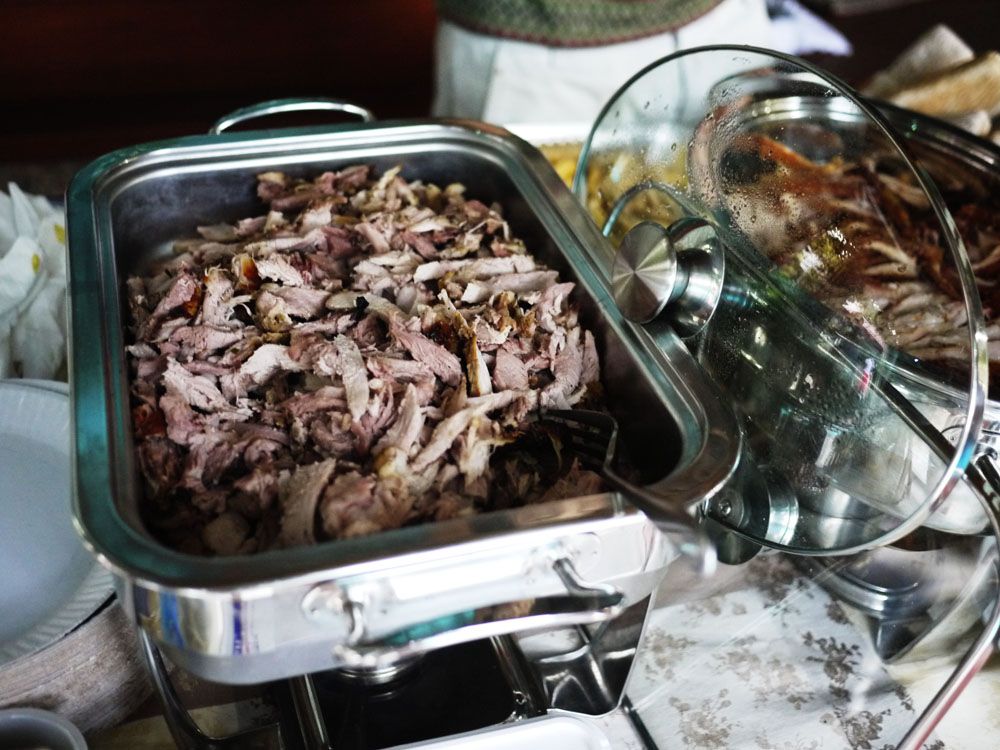 RECIPE: Perfect Beef Burgers: Make sure to buy 88% lean beef (too much fat will break the patty), portion it out into 150 gram portions and that's it (I'm serious). Then cook it on a very high charcoal grill and only season with salt and pepper after. You're done. Medium Rare of course.
RECIPE: Prefect Fries: Skin your potatoes and cut them in one inch thick pieces, fry them in canola oil in a deep fryer until half cooked. Before serving re-fry them until cooked through, soak out onto parchment paper and toss together with grated lemon zest, fresh thyme or rosemary and some coarse sea salt. Add some cayenne for kick.
The Music:
Always have a playlist ready, the last thing you want is for the same song to keep repeating itself and for people to notice.
I made a 115 strong playlist (about 7 hours of music) with different indie/electro groups, since that was the vibe I wanted for the party. Since it was poolside I made sure that the music fitted the setting.
We also had two bands play, the first, Hansom, is a band I first heard playing at the Mercato Market one day, so I got their number and asked them if they were interested to play a set. They rocked out a mix of Beatles, Smiths, Foo Fighters, Nirvana and some originals, all on acoustic guitars and a ukulele. Everyone really enjoyed their set, and appreciated how the band interpreted each song.
The Game Plan: Have fun. Don't Stress. Be Present.