December has arrived and if we are to survive past the 21st, it's going to be a long and busy month. Just looking at my schedule this morning as i came into the office, I sighed heavily, switched on my resolve and braced myself for a rollercoaster month. The holiday season is the catalyst of all of these chaotic garlands. We need to buy presents for people we are close to and others that we don't even know that well, maxing out our credit cards in the process, we need to pick up relatives, attend family dinners, go to multiple end of the year / christmas parties, visit new restaurants, play host for the month, arrange travel plans, plan dinners and parties, and ultimately try not to start the new years 10kgs heavier than previously.
So to help alleviate the burden a little and to try to help you out a nudge, i will be posting Fast Family Meals this month (FFM for short). These are dishes that are quick, tasty and can be made in large quantities to serve your family at home, or to entertain unexpected guess (without it looking unexpected). I hope you guys enjoy these and find them as convenient as i do! Happy Holidays!
To start off, this recipe is one of my to go to dishes because it is so quick to make and can be made very different by simply varying the quantities and ingredients involved. Use the salad as the base and serve with different style of proteins to keep it more interesting.
Lamb Chops with Couscous Salad, Herb Sirracha Sauce
For 4
To start things right, just when i wanted to shoot this video, i ran out of battery on my camera! Sorry! but the recipe and pictures will do 🙂
Lamb
– 3 small lamb chops each, or 2 medium-sized or 1 large each.
Take the meat and marinate it overnight with enough olive oil to rub down the whole lamb, 1 tbsp of salt, 1 tsp of pepper, 2 tsp of paprika, 4 crushed garlic cloves, fresh thyme or rosemary, 1 tsp of cumin. Rub it down.
When you finish your salad below. Flash fry the lamp (don't put all the oil with it) at medium high heat on a skilled until nice and brown on both side and let rest 5 mins. Lamb is supposed to be pinkish inside. If your cuts are very large, then they might have to be finished in the oven. Which is why I like using small lollipop chops.
Salad
Prepare enough Couscous per person, i usually go for 1 cup of cooked couscous per person. Mixed the hot just cooked couscous (use packet instructions) with 3 tbsp of butter. Let it melt down. mix and place in the fridge until cooled.
Chop up: 500 grams cherry tomatoes, 4 large handfuls of fresh parsley, 3 cubed bell peppers (vary the color), 2 red onions, 8 sun dried tomatoes.
Mix the finely chopped vegetable with all of the couscous. Mix with the juice of 3 lemons, and 1/3cup of extra virgin olive oil, salt and pepper to taste. Taste it and make any seasoning adjustments.
Sauce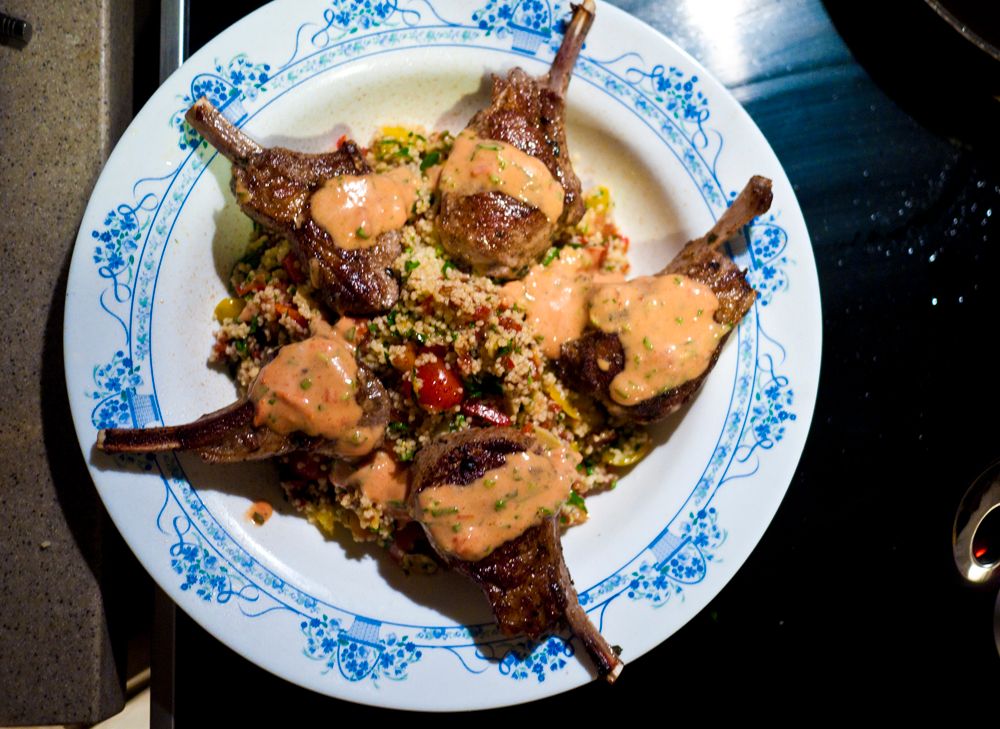 Take 1 small tub of sour cream, mix in a handful of freshly chopped chives, 1/2 tbsp of sirracha sauce, the rind of 1 lemon, salt and pepper, 2 tsp of honey and a tsp of balsamic vinegar. Mix and place on lamb.