People ask me where i get my inspiration from when i cook, how do i come up with the recipes and how do i know it's going to taste good. An idea usually just pops in my head at the most random time and i will decide at that moment that i would like to give it a go in the kitchen. The other day i got these clothes from the new collection at 5cm, check them out in Rockwell, great store for guys, i loked at the colours and how the textures would make someone feel. Warm, cozy, a little edgy and comfortable. I automatically thought of a sandwich, something real, yet dressed up and elegant; and since these are the holiday posts i wanted to add some blueberries to make it a little festive.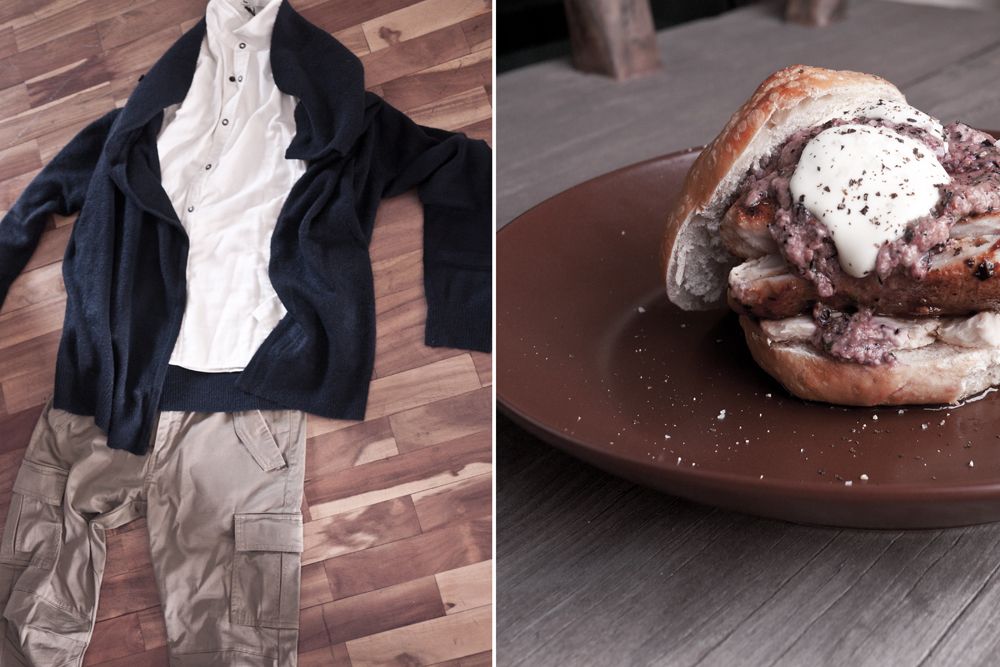 So this is a great little slider to make for your guest at lunch or as a quick snack. It's light enough to not make you lethargic, yet substansial enought to last you a couple of hours of satisfaction. It's a great, healthy and well portionned dish and as simple as it may look it is full of flavour.
Festive Chicken Slider with a Blueberry Sauce and Goat Cheese
For one slider:
– 1 chicken breast (full)
– 1 crushed and chopped garlic bulb
– salt and white pepper
– 1 bagel or english muffin
– butter
– 1 tbsp of chevre cheese (goat)
– 1 tsp sour cream
Sauce for 3 sliders:
– 20 blueberries (frozen is ok)
– 1 tbsp of balsamic vinegar
– 3 tbsp of filippo berio extra virgin olive oil
– 1 tsp of honey
– salt and pepper
– 1 tsp mustard
– 3 tbsp of chopped basil
– 2 tsp of chopped almonds
Season the chicken with salt and pepper (1tsp of each for both sides), put in a plastic bag for at least 40 minutes in the fridge. Get a pan to high heat with some oil on it, place the chicken breast on it and place another pan on top of the chicken. Reduce heat to medium. Cook until, when the pan is removed, the meat is almost all white. Flip. Cook until it's cooked through.
The sauce is a little like a pesto. Just whiz everything togehter. If it's too thick, add oil, to soft, add blueberries.
Split the bread in two, smother in butter and toast in the oven until coloured. Spread the goat cheese on the bread. Place the chicken on top. Smother with 1-2 tbsp of sauce and some sour cream.