The other day I went grocery shopping in the supermarket and bought some top grade lean ground beef, excited with the possibility of making some sous vide burgers and homemade sweet buns. After frantically running around all the aisles like a 5 year old kid on a sugar rush, I paid, drove back to my apartment, sat down, terrifically anticipating the great dough I was going to make for my buns, went to my pantry, stopped, cried a little and realised that I had no more flour at home, officially making my ingredients in my kitchen almost grain free. The Horror, cheat days were never going to be the same anymore. Painful seconds of daunting brain itching passed, I regrouped and decided to make myself a healthy meal instead, but one that could trick my over thinking mind to believe that it was, in fact, a cheat day Sunday.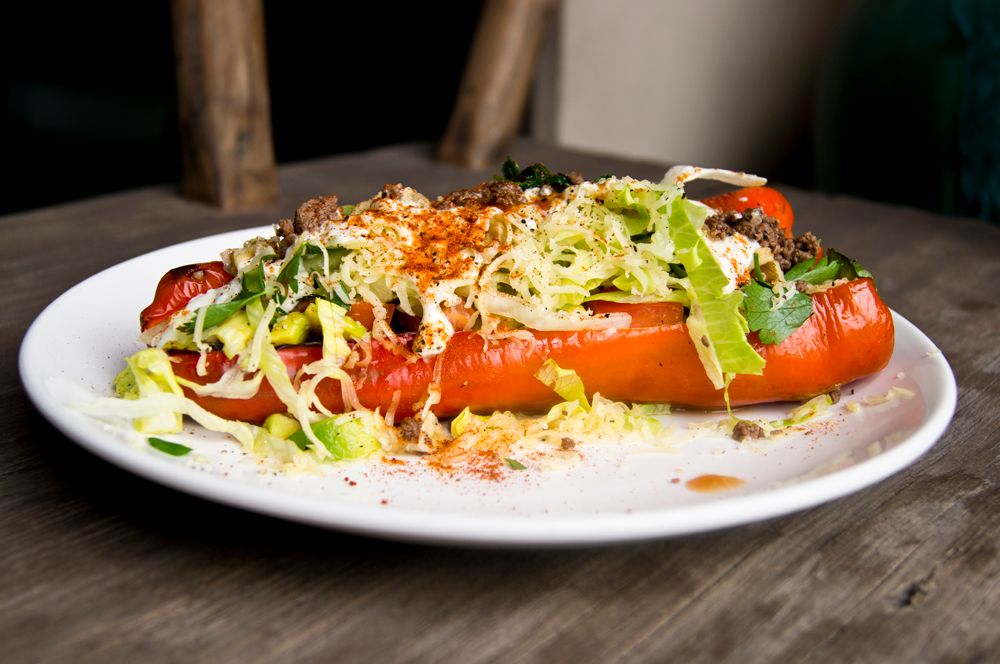 I urged myself to think like that 5 year old hyperactive kind and thought about what he would like to eat and how I could fool him into eating something good for his health without him knowing any better. I had a look at what I had left in my fridge and found these MASSIVE banana bell peppers. The more I looked at them the more I saw a taco shell. Here is the product of my hungry mind, a grumpy stomach and a little whimsy. I reconstructed a basic Taco and since I like to play with my food (sorry mom), I dressed it up like a Mexican corn on the cob.
War on picky kids!
Grain-Free Healthy Pepper Shelled Beef Taco
For 2 hungry folk.
Fry off ½ white onion with 250 grams of lean ground beef with a tsp of cayenne pepper, salt, pepper, onion powder, cumin. Stir fry until cooked.
Chop up 1 avocado in squares with 1 plump red tomato. Add in some seasoning and juice of a lemon.
Take 2 large red banana peppers, slit the top side of it and clean the inside without ripping the thing apart. Rub 1 tbsp. of olive oil per pepper and season with salt and pepper. Place on a tray and bake at full whack for about 5-10mins, or until slightly coloured but STILL CRUNCHY. If it's not crunchy anymore, this will not work. The purpose of putting them in the oven is to get them hot and tame down the strong flavour just a little.
Chop half a head of iceberg lettuce finely.
Once the large peppers are ready, stuff them with the ground beef, then the avocado mix, then the iceberg lettuce, a little crushed walnuts, a handful of iceberg shreds, some grated full fat mozzarella cheese (1tbsp or more), 1 tbsp of sour cream or full fat yogurt, a sprinkle of Spanish paprika, some salt and some pepper. Serve with lime wedges.