People really seem to enjoy the sandwich posts quite a bit. This makes me happy because for a long time I always wondered why locally a sandwich isn't considered a meal. I mean if you look at the proportion of the ingredients in any given healthy sandwich, it's a great complete meal, and what's even better about it, is that you can't overeat or overfill because most square sandwiches have what I like to call a load limit. This Load Limit is simple, the final objective being that when you bite into it, nothing slips out sloppily, or that when wrapped in a paper towel it doesn't spill over or drench the towel.
One of my favourite breads to use is the Gardenia High Fibre Wheat Raisin Loaf, because not only is it really rich in fibre, is made of whole wheat, it has little bits of raisins that are an awesome compliment to any salty or natural fillings you can come up with. As I've stressed before high fibre may promote good digestive health and may help in proper weight management.
One slice of Gardenia High Fibre Wheat Raisin can provide 29% of your daily dietary fibre needs.
Sandwiches are so variable and there are way too many options to choose from, you could literally think of any dish and transform it into a sandwich, just draw inspiration from every day or your fat kid confessions.
If you are like me, always on the go, between cars, meetings and scheduled appointments, then this to go meal between fluffy buns is the way to go for you too.
Since last time I did a Fresh Sandwich, this time I'm going with a grilled one, just to give you a little variety.
 Grilled Lean Steak Cheese on Whole Wheat Raisin Loaf
The night before take a minute steak and beat the hell out of it to get it nice and almost paper-thin, you want to be able to bite through the steak easily when it's cooked. Marinate with a little olive oil, a crushed garlic, salt, pepper, dried herbs and cayenne pepper. Wrap in foil and keep overnight.
Thinly slice one small white onion and one small red pepper, fry off with a little olive oil, seasoning, 1/2 tbsp of apple cider vinegar, a drop of sesame oil. When a little soft remove from heat.
Fry off your steak at high heat until a nice caramel colour appears. Let rest 2 mins.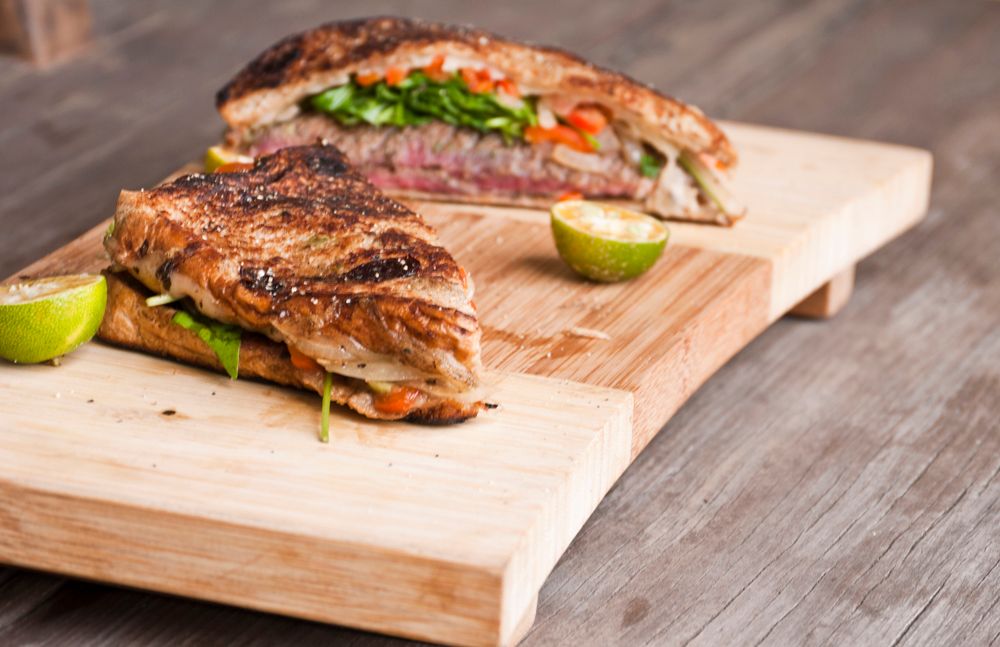 Take two sliced of  Gardenia High Fibre Wheat Raisin Loaf, spread 1/2 tbsp of raspberry jam on the base bread and spoon out the meat of one small avocado and spread it on the bread too. Top with the steak, a slice of swiss cheese, the onion+pepper mix and cover. Press down on a medium high pan with a little butter, making sure to keep the sandwich together, when golden brow on one side, flip and press on the other.
When its done, open up and stuff with fresh arugula (or whatever herb you like). Serve with calamansi or some tomato sauce.
Every October, the world celebrates World Bread Day as a way of showing its appreciation for bread, its nutritional benefits and its role as a staple food that brings people together and enriches everyone's life. Join Gardenia in celebrating the goodness of breads on October 20, 2012 at Eastwood Mall Open Park, Libis!