Canned Tuna is such a welcome addition to any diet and it is oh so convenient. I am guilty of busting open a can, adding some chopped onions, tomatoes, lettuce, some pine nuts, balsamic vinegar and good quality olive oil, and tossing the whole thing. It makes for a glorious, quick and healthy salad.
I am a big fan of pickling things, preparing and prepping ingredients in advance, marinades and anything that will eventually lead up to shortened preparation time when i actually get to the point of cooking and consuming. This process of planning things in advance is a great discipline o have instilled in your everyday life, not only does it save money, it also forces you to eat fresh, because you don't have that go to excuse at a fingers reach anymore 'i just don't have enough time to cook fresh'
Here are some examples of things you can prepare ahead and how to use them after:
– Instead of letting your bananas go bad, freeze them peeled. You can use these in smoothies or to make a quick frozen banana yogurt (yogurt + honey + Banana + stick blender)
– Salt or Marinate your chicken. If you are anything like me, you probably buy too much chicken breast that you can eat and they tend to go bad in the fridge really quickly and no one likes to freeze their meats also. Rub them in salt or marinade, that should extend their lifespan by 2 or 3 days. Then all you have to do is cook them and they will be well seasoned already.
– Pickle your vegetables. When you HAVE veg that's about to go bad, chop them up, prepare some pickling brine (usually vinegar + sugar + spice based), pickle, jar up and keep for a long time. Pickles are great to liven up any dish or sandwich. My favourites are pickled: Daikon, Carrots, Cucumbers, Gherkins, Zucchini.
– Compote your fruit: If you see that fruit is about to go bad, this is your opportunity to turn them into a jam like compote (reduced fruit with some butter and add a tad bit of sugar and salt) or some sort of chutney (usually sugar and vinegar based)
– If you have a dehydrator you can use it on thinly slice meats, veg, fruits and herbs to extend their shelf lives too. Dehydrated food makes for great snacks.
– Vegetables and Fruit will keep better in paper packaging then in the store bough plastic packs.
– Wash your Leafy greens when you buy them then wrap them in a paper towel.
– Keep Tubers (onions, potatoes, etc..) in cool dry places.
– Apples emit a gas that makes other food ripen faster, so separate them from the rest.
– You can blanch vegetables, put them in a sealed bag and freeze them. Or make soups and freeze that.
– To keep your fish from spoiling, poach in olive oil and it will keep 3 days in a glass sealed jar. Try this tuna recipe!
Want to see more? Click more then!
In a deep large sauce pan, place 3 crushed garlic cloves, 1 chopped white onion, 1 chopped green onion, 1 tbsp of balsamic vinegar, 1 tsp of sugar, 1 bay leaf, 1 cup cherry tomatoes and enough Filippo Berio to cover all the ingredients. Bring the oil temp to about 130 f. for about 10 mins. Place in 2 thick tuna LOIN steaks, seasoned generously in salt and pepper, in the oil and poach for about 40 mins at that same temperature.
Place the juice, oils, veg and tuna in jars. This will keep for about 2-3 days.
Enjoy with some crusty bread. Serve with lemon sliced and top with some fresh herbs.
I know it may seem really oily but the olive oil is there for flavour and not to be sipped like a drink.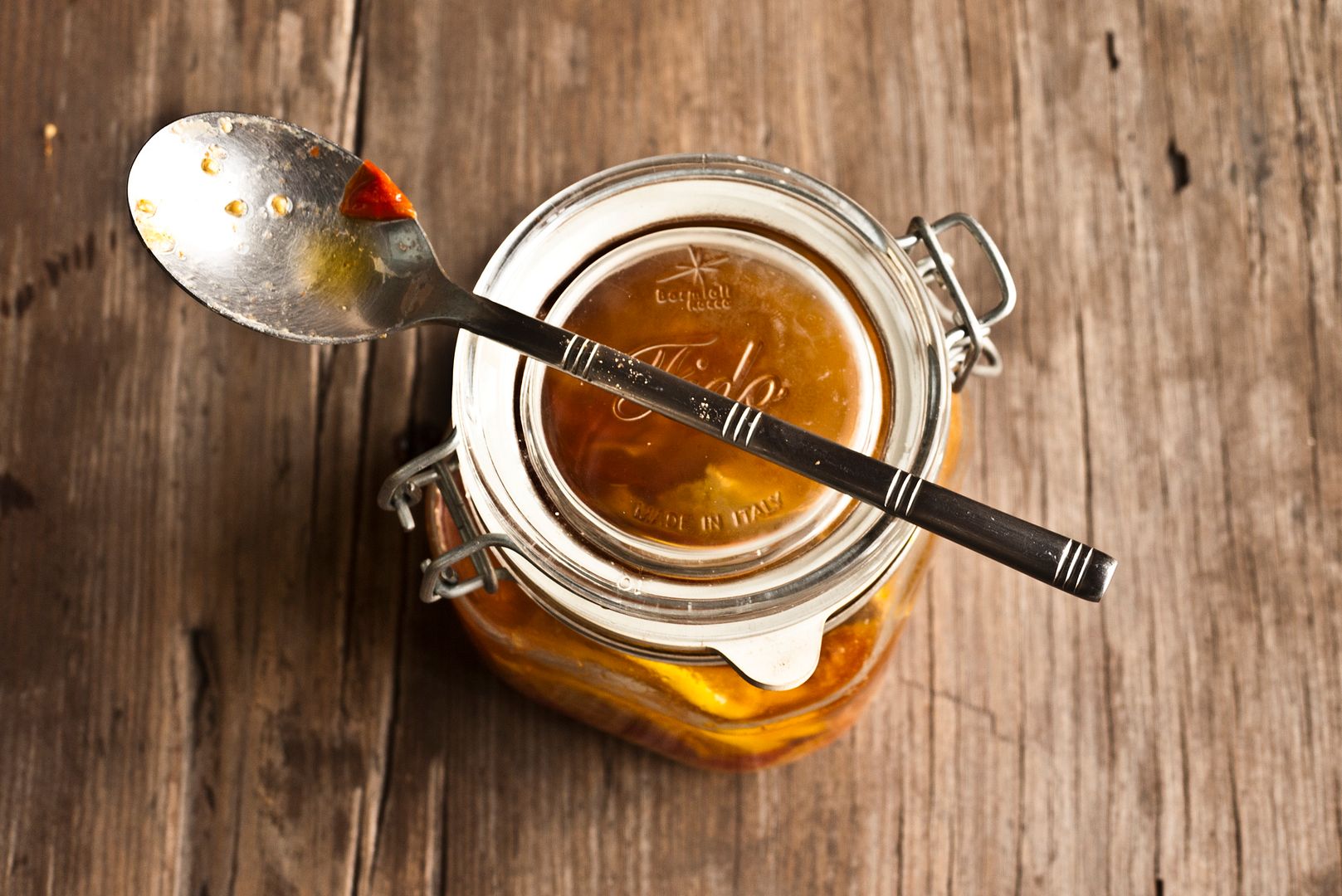 The quality of the Olive Oil here is of the utmost importance, which is why i go for my favourite Filippo Berio. The dish calls for a clean yet flavourful oil that will not only compliment the fish, but also hold all the vegetables well and enhance all the individual flavours. Since we are heating the oil here its best to use the regular olive oil. However if you were to just sear the tuna loin, you could finish it with their great Extra Virgin Olive Oil.