vI'm not going to write much today. In 2 days i have my long distance triathlon ironman 70.3 and i'm buzzing around like a headless chicken trying to make sense of things. In fact I'm in the airport now on my way to the city of Cebu, our race venue. The ultimate multi-tasker.
For those who don't know. Laing is a very Filipino dish that usually consist of boiling down some gabi (taro) leaves with coconut milk, spices (shrimp paste, garlic and lots of it, onions, chillies) and other ingredient variations. It hails from the wonderful Bicol region and will forever be one of my favorite dishes.
Bicol Express is a mix of Baguio beans, pork slices, garlic, onions, chillies and coconut milk. Do you see a pattern here?
My beef with Laing is that it's eaten as a side dish, and with the Bicol Express is that it doesn't really make sense to eat it on its own.
So I thought, why not put them together , add and change up a couple of ingredients and make a complete dish that can be eaten on its own (I just substituted chicken for pork).
Here is the birth of BlaingX (possibly the ugliest name of a dish ever).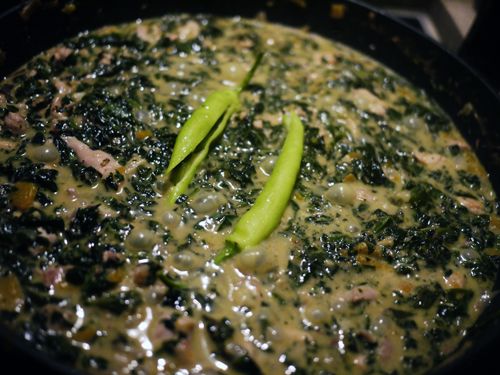 Here I am in the airport lounge blogging this post from my phone, so excuse the typos and the lack of bold font (I'm terrible at coding )