Cravings are a peculiar. They seem to pop up uninvited all of a sudden in the weirdest of circumstances and from the strangest train of thought. The other day i saw a commercial for a new product from KFC (yes, the smart creators of the double down – fried chicken replaces the bread – um ok why would i want that? if you've tried this, you are being judged right now), this got me thinking of what it could be and what other deconstructed omitted ingredient recipe they would conjure up next. Result: The Cheese top Burger (an angel just died). Yes, it's exactly what you think it is, the cheese is on top of the burger bun. I'm very sad right now… First the skinwich, now the cheesewich.
* a good cry later* I started thinking about all this kind of food that really shouldn't ever be eaten and eventually the long list brought me to the likes of McDonald's' chicken nuggets (yes im going to call out all the fast food chains today), to which we still associated horror stories of chicken with no heads and self procreative animals (huh?). In truth, McDonald nuggets are made of real chicken. They just don't tell you what chicken parts. We do know though that the grinders are very high-powered, so they probably just use chickens that have been stripped of all their meat, and you are left with the bones and whatever pinkish remnants are clinging for their lives. Added to this beautiful pinkish paste are a bunch of scientific ingredients i can't even attempt to pronounce and that's never really a good thing.
Asides from Evil chains, some food blogs also make some recipes that confound me. Recently i stumbled upon www.pepper.ph and I'm so happy that we have a local food blog with their quality of design esthetic, photography skills (far exceeding mine) and comedic relief. I like the way they present and talk about their food and some of their recipes are really great. SOME. I digress, Desperate College Kid does Magic with some Fita, Curly Tops and Marshmallows , [Food Hack] What would Frankenstein do with a Deep Fryer and some Oreos? , really? Here I am raking my brain finding creative ways to convince more people to try out fresh cooking in their homes and they smile right back conjuring ways to use junk food in cuisine. I guess I needed a ying to my yang. I just didn't know my yang was so dark. They are ninjas, i'm a samurai.
Here is a fun take on fried chicken nuggets, tastes even better, is more presentable and is something you can bring home to your parents:
Non-Fried Fried Chicken Pillows with Yellow Squash and Zucchini "Pasta"
Mix 1 clove of finally chopped garlic, 2 tbsp of honey, 1 tbsp of dijon mustard, salt, pepper, 3 tbsp of milk, 1 tsp of paprika and 1 tsp of garlic powder. Place 4 trimmed chicken thighs in the liquid and marinate overnight.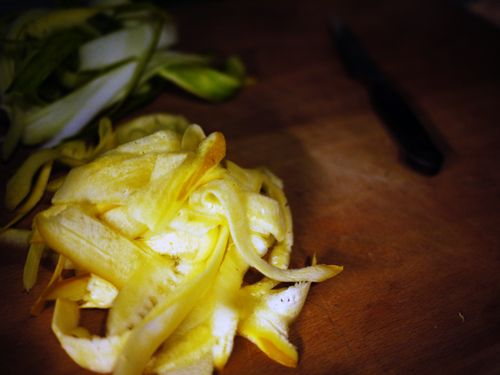 Make your zucchini and yellow squash pasta by using a vegetable peeler and making long flat slices (skin included). you want a handful of yellow squash and a handful of green zucchini at the end (1/2 of each should be ok)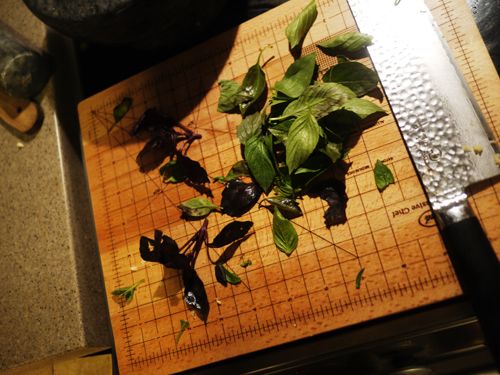 Crush together 2 tbsp of walnuts, salt, pepper, 1/2 garlic clove finely chopped and mashed, 1 handful of finely chopped basil, some evoo and a tbsp of Filippo Berio Baslamic Vinegar. until you form a nice pesto like paste.
Take your chicken out of the marinade, and put in a plastic bag with blended rolled oats (until it becomes a powder) a little whole wheat flower and some mutigrain breadcrumbs (pulsed through a food processor); shake of excess mixture and place in a baking dish covered with a little canola oil. if you don't mind being slightly less healthy you can just dip the chicken in some normal crushed bread crumbs. Bake at 180 celsius for about 30-40 mins or until cooked and nicely browned and crunchy.
Fry off the veg until slightly soft and add in 1 to 2 tbsp of the sauce.
Top and Eat.