The most common excuse that I hear when people complain about being overweight or about how they can only consume fast food, is that they are short of time. I guess that's one way to put it, in my mind, they are just Lazy.
I work a normal 9-7 job, train for triathlons in the morning and after work, maintain and shoot for a blog at night, have a girlfriend, see my family, write business plans for my side projects and still manage to cook a majority of my meals. Am I exhausted at the end of the day, yes, that's an understatement. Am I any better than you?  No, definitely not. The only difference is I don't look for excuses, I just set out everyday with a clear schedule, goals and the ways in which I will achieve them. Time management is key and if you do implement it in your daily life you will see how more efficiently you can reach your fitness or life goals.
This recipe is all about being lazy. You see even if I cook my meals, doesn't mean it's extremely elaborate food all the time. In fact when I'm really short in time I eat a can of tuna, 2 hard boiled eggs, 1 pack of almonds and whole wheat crackers (all from 711); well, that or baby food (trust me, it's the best: portable and has great nutritional value).
So here is the lazy man/woman's version of a ravioli. I usually would make my own pasta then stuff and cut it into ravioli, but unless it's the weekend, there is no way I'll have time for that. So if they have open faced sandwiches, why can't we do an open-faced ravioli. Cue awesome-ness. Time to cheat.
 Open Faced Ravioli with Tenderloin and Runny Yolk and Chunky Tomato Sauce
Cook a sheet of Whole Wheat Lasagna or sheet pasta. If you can get it fresh, go for it.
Heat up a chunky tomato sauce you made before, or even just a nice store bought, organic, barely modified sauce. (Check out my post about the tomato sauce, the only difference is, leave some chunks of tomatoes in there, and add in some fresh herbs!)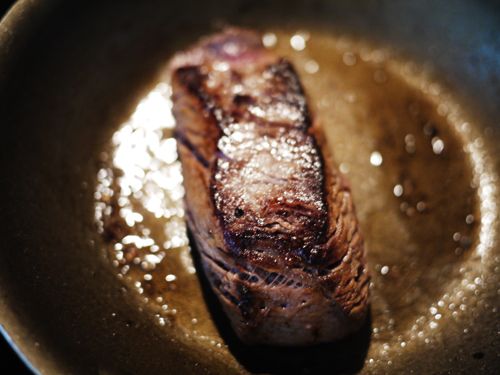 Take a nice piece of rectangular beef tenderloin (see the video for size and thickness), cook on every side (4 sides) in a hot buttered skillet (only season it when its on the skillet), so that you get a nice crispy sear and all the juices get locked inside. Cook it to your preference, let it rest, then slice it thinly right before serving.
Poach 1 egg. Here is a good explanation on how to do it perfectly if you're OC.
Now plate, pasta + 4 spoonfuls of tomato sauce + beef slices + the egg, trimmed of most of the white (go ahead break it, you know you want to) + 1 massive tbsp of ricotta cheese + a bunch of small crisp basil leaves + seasoning + Fillipo Berio extra virgin olive oil = steak and eggs ravioli. Boom.