You see, I very rarely plan what I'm going to talk about simply because i always make sure my fridge is full of ingredients i can use for a week to make my meals. Every post you see on my site really represents a bulk of what I'll eat or make to give to friends eventually.
The other day, as i came home from work to have a quick-lunch, i opened my fridge and a single tear ran down my face. My fridge was practically empty. I had completely ran out of time to go by the groceries on sunday and i knew i was going to be late for a post if i didn't shoot something quick (video blogs really need to be planned as i need to make them under 30 minutes most of the time).
Lost for inspiration, i rummaged around to find some grapefruits, which have been in season for the past week and are quite tart and sweet at the same time, for a surprising low price, some pomelo, one of my favourite Filipino fruits, it's very juicy, sweet and has a great texture and finally some left over cooked quinoa from dinner the day before. So the hell with it, let's make a salad.
Pomelo, Grapefruit and Quinoa Salad
The Dressing: take a big bowl and combine 1/2 tsp of brow sugar, 1 tbsp of good quality apple cider vinegar or rice vinegar, 1 tsp of sesame oil, black pepper, a small tsp of fish sauce. Toss in 1 cut grapefruit with all the juices, some raddish and 4 pomelo sections, drizzle in some organic honey. Add in your herbs. I used parsley here but basil would be best.
Crush some walnuts and peanuts in a mortar.
Yes it's that easy. Plate away, spoon in some quinoa drizzle with a little olive oil and top with the salad and crumble your peanut/walnut mix all over.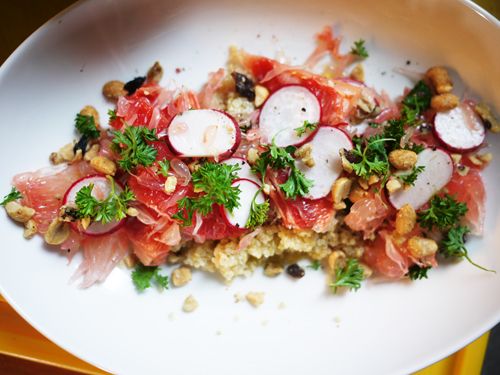 This dressing is great because it compliments the fruit well. It doesnt bring any big bold defining flavours, but simply compliments the freshness and vivacity of the fruit.