Every time I take a trip out of the country, and step into a foreign supermarket, I get sad because locally our selection of produce and products is so limited in our markets and supermarkets. Take a brand like Gardenia for example (the breads), they have such an amazing wide ranging variety of breads in Singapore (wraps, wholemeal, wholegrain…) but locally they only sell more or less 4 varieties (when they are in stock). People will complain that we don't have the climate to grow certain vegetables or fruits, or that certain products are too expensive to bring in, I say that all of that is a load of crap.
After talking to some farmers and international consumer good/product managers, I realised that we do have the technology, we do have the capacity, the retail space, the production lines and the talent, but we are missing one major key player: The Consumer.
It makes sense, why would they supply products if there are no consumers who are interesting in buying it? And how will consumers know about these products if they aren't locally available. A terribly vicious circle, but it really does come down to us. The Filipino culture, though one of the most eclectic and interesting in the world, having gone through so many different stages and influences, is now scared of change.
In food, when I ask a question like "what recipes do you guys want to learn next?", the majority of the answers I receive is "Chicken  Adobo with a twist"…..
So maybe somewhere somehow, I can contribute to opening some spirits and helping people to try different things, and eventually create a demand for all these products a lot of us do want to have locally, through this blog and that's what I aim to do.
So please, when you see a supplier making an effort to bring in a new product or a farmer growing something not so common (I saw some local rhubarb the other day and just as quickly it was discontinued), promote it and try out, turns out it could be your new favourite ingredient.
Roasted Beets and Pea Salad with Shrimp and Fish Cakes
Wrap your washed beet (without the stem) in aluminium foil with olive oil and leave in the oven for 45mins-1hour at 200c, defrost your frozen fresh green peas.
Clean and devein about 2 large handfuls of shrimp (maybe 300 grams?) and 1 filet of cream dory, chop up and place in a food processor with 2tsp of fish sauce, 1 tbsp. of flour, 1tsp of brown sugar, 4 chopped baby onion leeks (white part), 1 chopped red chilli, 3 chopped cloves of garlic, 2 tsps. of chopped ginger, cracked black pepper, one egg and some chopped basil. Blast it and make a paste out of it. Take a little of the batter and cook it, taste it, and modify the seasoning to taste. Before frying in hot canola oil, make a ball (2 heaped tbsps) and dredge it in flour, without working in, then place it in the hot oil on medium high, turning it when nice and brown (it'll get fluffy).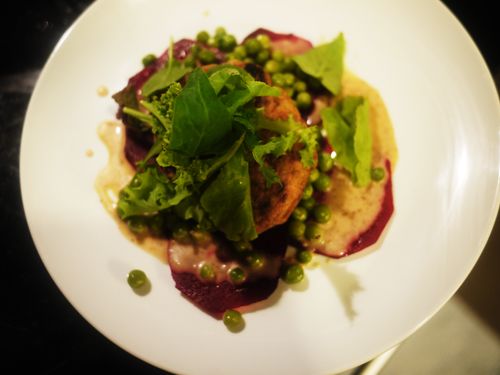 When the beet is ready you will be able to pierce it through. Peel and slice in rounds and place on the plate, topped with the thawed green please, wet with Japanese sesame dressing (can be store bought or homemade – your call) and place the cooked cake in the middle. Top the whole thing with a nice mesclun salad.