The words "spaghetti carbonara" evoke such pleasant memories of my visits to Italy.
There is a certain respect for the ingredients used in the dish and it is a delicate dance between the fatty sweetness of freshly cut bacon, bright olive oil, creamy egg yolks and a the distinguishable undertone of garlic. That's right. That's it.
No, there is no decadent heaviness of cream or burst of sweet pea juice or defrosted refried bacon bits; those are simply wasted interpretations of an already winning combination.
The problem with carbonara is that it can be quite fattening. In truth, when compared to an arrabiata sauce, the difference in calories is quite consequential.
Since most of you have been reading my blog for a while now, you know that I believe in cycling carbohydrates (taking them only when needed, before or after a hard workout), but since pasta makes me happy, i had to find a way around my nutrition rule.
So here is a recipe that uses the proper carbonara technique but with healthier ingredients. Instead of egg or flour pasta, I used quinoa flour pasta (it's great because it has good-for-you carbs and is gluten/wheat free) and instead of gloriously fat bacon bits, I opted for a lean piece of bacon used to flavour turkey ham. In short, a perfect combination of good carbs (quinoa), good fat (lean bacon and olive oil) and protein (turkey ham and eggs).
This was absolutely delicious and im sure I can full so many people with it.
Enough talking, here is the video
Instructions: Boil salted water for your pasta. Get a frying pan nice and hot. Add your pasta to the salted water and cook until al dente.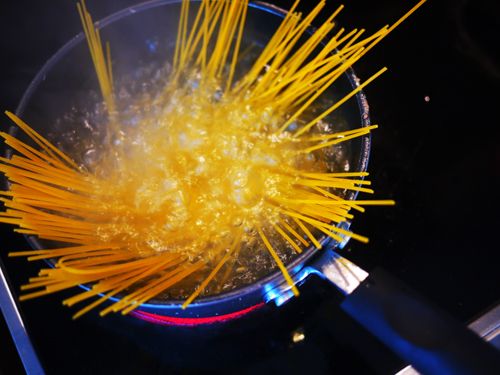 In the frying pan, place some Filippo Berio, and cook a piece of turkey ham with a  very lean piece of back bacon until almost crispy, then add two whole crushed bulbs of garlic until slightly brown. In a bowl mix 2 eggs with 2 tablespoons of freshly grated parmesan cheese.  Once the pasta is cooked, with the help of tongs, transfer it to the frying pan and mix well. Take it off the heat and quickly add your egg mix, while stirring constantly until it is all very sauce, but make sure your eggs don't set or curdle. Top with more shaved cheese.
Finish off with some extra virgin olive oil and taste to season.
I'm somewhat biased when it comes to olive oil and my favourite brand is Filippo Berio. Its available basically everywhere and is flown in from Italy. Great taste, flavours and not to obtrusively powerful like some. This recipe calls for both their Olive Oil and their Extra Virgin Olive Oil.