I was a friend last night and he used the term Smorgasbord to basically explain what Brooklyn represented to him. This little hipster term ( @miguellugtu – follow him) is what inspired my dish today. A Smorgasbord is usually defined as a popular spread of cold cuts, smoked items, pickles, salads, etc served around Scandinavia. It's basically their version of a buffet.
When I went home to eat, I had a look at my fridge and the only protein I had were eggs and smoked salmon. Now, there come moments when cutting grains and such, when your mind really begs for some sort of starch and smoked salmon is one of those moments.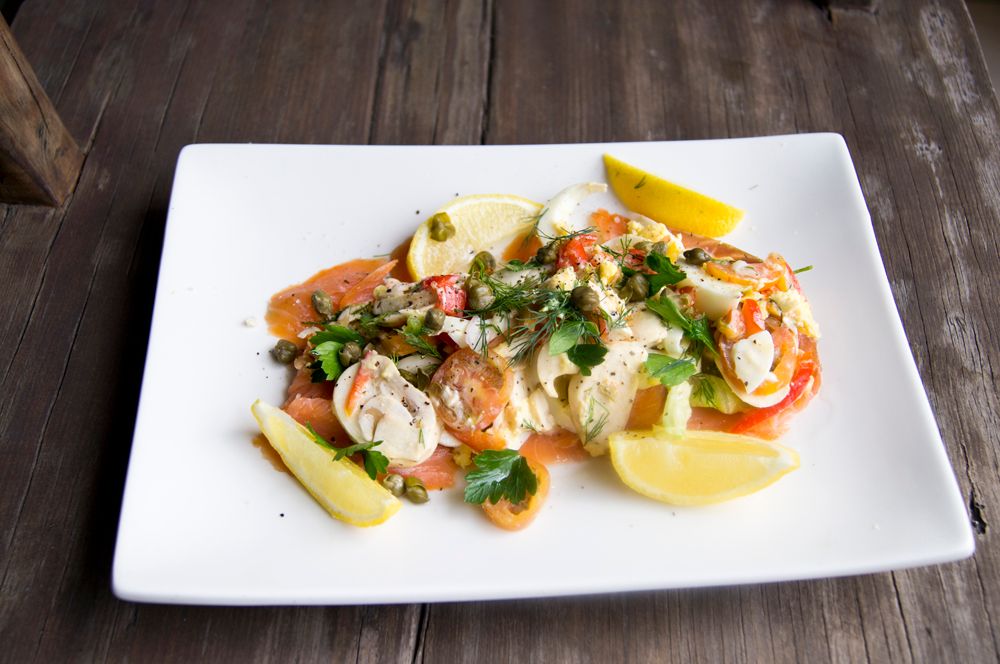 Slightly pink and orange. The colours of the setting sun. A light dollop of sour cream. Chopped green chives. A cold chill brushes by. A twist of golden lemon and the bite of black pepper. Spread ever so slightly on thick grain bread and grounded with smoked fish. A taste of the north and a breath of the deep.
Now do you understand me when I talk about a moment? Dark bread and smoked salmon are the perfect partners in crime.
To make me forget about my craving I decided to top my smoked salmon with a salad that would add to my satiety and place bread at the back of my tortured mind.
Smoked Salmon with a bright chopped salad and orange vinaigrette
Song by Imagine Dragon – It's Time
Pretty simple though.
Dressing: 2 tbsp yogurt, 1 tbsp olive oil, salt and pepper.
Salad: 3 chopped shallots, 1 small finely chopped red pepper, 4 sliced baby tomatoes, 5 sliced large button mushrooms, 1 bunch of dill, a bunch of parsley, juice of half and orange, 8 capers. Season. Toss with the dressing each time you add an ingredient.
Place on top of smoked salmon and seve with lemon wedges.